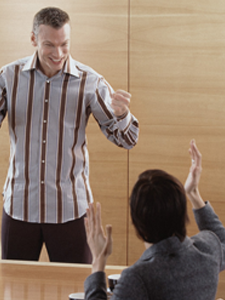 Consultancy
Our style is old-school – the time-honoured 'let's roll up our sleeves and tackle this together' variety. We make no apology for this. It works for us and it works for our clients – as you can see from their testimonials.
We believe that often our clients already know the right answer. Sometimes, however it's buried so deeply in consciousness or culture that it takes a bit of excavation to expose it! We promise that we'll listen, we'll learn and we'll extract the best solution we can for you.
Facilitation
Don't confuse motion with progress. A rocking horse, even at its most active won't get very far!
We can facilitate your meetings and workshops and put the momentum back in the process. We will get things moving in a creative, fun, supportive, and pro-active way. We'll show you how to get the very best results from your group-activities by being firm, fair and focused.
Training
Is training a cost or an investment? We'll leave you in no doubt. We never, ever use off-the-shelf, basic programmes. That's why we can't list them here!
Each of our training programmes is designed, developed and delivered in partnership with our clients to meet your specific needs in your own unique context.
Drawing on our blend of expertise in organisation development, change management, human resources and communications, we will put together a customised event that's focused on your issues and challenges – and we're not afraid to change direction during the programme or event if our work with your group unearths different or new priorities!
Mentoring
Business mentoring and coaching are both about improving the efficiency, knowledge and skills of individuals. They are, however, quite different.
Compared to Coaching, mentoring is generally less-structured, more directive and advisory, runs for a longer period, and has a broader scope.
Mentoring is usually delivered, over an extended period, by a loyal and trusted adviser who is mature and experienced in business. Your mentor has 'been there, done that' and will be able to anticipate where you should be heading and what you should be doing. The real value in the mentor relationship is the objective, unembellished feedback and counsel that they can provide you with
Through mentoring, we can help you in your work by being your confidante, your sounding board and your second opinion. We will listen and question you, help and guide you, encourage and support you. We will be there for you – to help you thrive in your role.
Coaching
Business coaching and mentoring are both about improving the efficiency, knowledge and skills of individuals. They are, however, quite different.
Compared to Mentoring, coaching is structured, self-informed and focused on clear, short-term goals.
Business coaching is the art of facilitating someone's work performance, their self-awareness, their learning and their personal development. Coaching helps you to move from the position you are in to the position you want to be in. Meanwhile, you remain responsible and accountable to yourself.
Your coach will explore your issues with you in a non-judgemental and supportive way. Their role is to help you to identify your priorities and objectives and to encourage, motivate and inspire you to stay on track.
Through coaching, we can help you and your people in many areas of your work-life, such as leadership, time-management, interpersonal skills, project management and team-working.