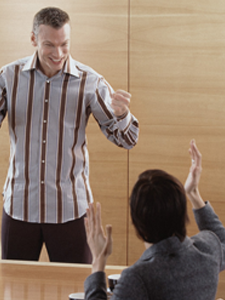 We show organisations how to succeed by being focused, aligned and agile.  We help them to develop a clear strategy with a strong vision and purposeful mission which are reinforced by meaningful organisational values.
We show them how to communicate effectively and teach them how to make the right enduring changes to achieve their objectives.  We make sure that their management practices, abilities, plans, activities and goals  are aligned to their strategy to get the right results at the right time.
By means of consultancy, facilitation, training, mentoring and coaching we can bring a unique blend of business expertise and talent to the challenge at hand. We believe that this mix – our depth of knowledge and our breadth of skills – accounts for our enduring relationships with our clients.
Any change you make in your business must take into account the broader organisational picture as well as the problem itself. Align will help you to do just that. Through independent, objective diagnosis we will design and implement complementary and creative solutions for you that will improve organisational and individual performance.
Align builds common-sense solutions through tailored initiatives. We set realistic goals and add value with measurable results. This is our foundation for enduring performance improvement.
Read More
Some Recent Achievements
Miriam Ahern
Designed and facilitated of off-site weekend strategic-planning workshop for multi-national client in the IT sector. In a post-acquisition context, the objective was to create relationships and to encourage cross-functional co-operation and business development between executive teams from geographically dispersed business units. A challenging and stimulating three days ended with a lively inter-company debate - Cross-selling is the only way to achieve our budgets! Each participant had a role. The Duchess of Queensbury rules were strictly applied!
>>>
Gerald Flynn
Recently brought 12 of Ireland's most senior HR directors together in a think-tank forum to explore and discuss best practice initiatives to guide recovery from the economic and employment recession. This was a CIPD Ireland sponsored initiative.
>>>